"Future life and Integrative Medicine"
The Innovation meet on "Future life and Integrative Medicine" held at V.G. Vaze College, Mulund, on 6th March 2022. The meeting was attended by around 30 people. Dr. Vrishali Deshmukh welcomed the audience.
Dr. S. S. Apte said the mission of ARH "Exploring use of nanotechnology through Homoeopathic dosage formulations for addressing human, plant and animal diseases". He told in brief how the theme of presentation is in tune with the mission.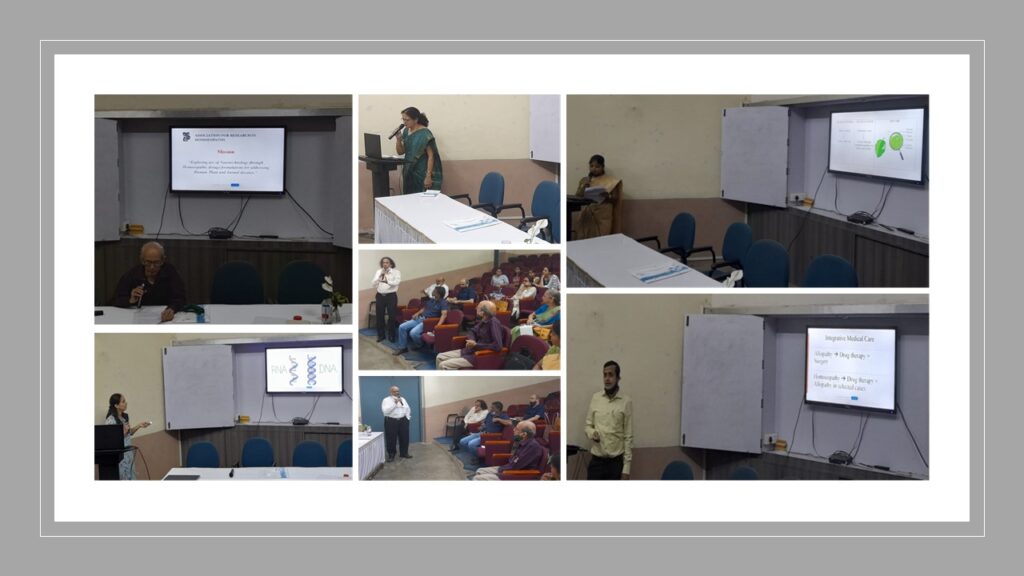 The Subject of Mrs. Priya's Presentation was – "The Living world and Human life". She explained how the phenomena of life unfolded itself over many years and the major milestones in the history of Human life. She also touched upon the physical and psychological impact of covid.
Mrs. Aarvi Prabhughate Presented on "Homoeopathy in plant care". She explained the experiments on plant diseases with Homoeopathic drug formulations. She discussed the similarities in Plant and Human physiology. She also explained certain programmes for youths to guide them on agriculture profession.
After Mrs. Aarvi's Presentation, Dr. Kundu released the English version of "Sanvad" blog on ARH website. It is an Online platform created for sharing knowledge with young farmers.
Next to that Dr. Swapnil Patne presented – "Roadmap for Research in Homoeopathy". He mentioned the remarkable progress made in treating human diseases. He also discussed the holistic approach to future life and integrative medicine. He explained about the purpose of data management in homoeopathic point of view.
Based on the comments and suggestions from the experts, we planned planned to formulate programme for the next one year.